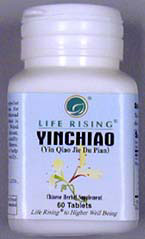 Name: Yin Chiao
Description: YinChiao is a popular "seasonal illness formula" in China for hundreds of years. According to Traditional Chinese Medicine (TCM), seasonal illness is mostly caused by external pathogen Wind combined with Cold or Heat. A scratchy throat, burning eyes, and dry mouth usually characterize Wind-Heat style seasonal Illness. This herbal formula is highly effective to help expel external Wind-Heat, detoxify, particularly when taken at earliest onset.
This quality product retains the herb's maximum natural smell, flavor, and activity.
Please note: 1 gram of tablet is equivalent to 5 grams of crude herbs.
Ingredient: Honeysuckle Flower, Forsythia Fruit, Mint, Burdock Fruit, Balloon-Flower Root, Fermented Soybean, Chinese Licorice Root Schizonepeta, Lophatherum Stem & Leaf.
Property and Function: Clears Wind-Heat from superficial area and helps detoxification.
Standard use:
Common colds and Flu due to external Wind-heat
Infectious or allergenic conditions in eyes, nose, and upper-respiratory area.