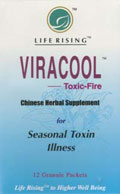 Name: Vira Cool
Net Wt: 3g x 12 Granule Packets/Box, 100 Boxes/ Case
Description: According to traditional Chinese medicine, most severe toxins are related to toxic fire and heat. Used throughout China, the herb Ban Lan Gen (Dyer's-Woad), is highly effective at dispelling toxic fire and cooling toxic heat. New advances in the manufacturing process of this herb help us bring you the finest quality available. In this formula, VIRACOOL, we have combined Ban Lan Gen with four other herbs that complement and strengthen its effectiveness.
Ingredient: Bupleurum(Chai Hu), Ledebourilla(Fang Feng), Citrus Peel(Chen Pi), Paeonia(Shao Yao), Licorice(Gan Cao), and Ginger(Sheng Jiang)
Origin: First documented in Complete Works of Jing-Yue (Jin Yue Qu an Shu) by Zhang Jie-Bing of the Ming Dynasty, A.D. 1624. In this formula, Bupleurum matched with Ledebouriella, Citrus Peel and Ginger mainly works to dispel pathogens from the superficial areas. Paeonia matched with Licorice relieves stiff, achy muscles. Licorice matched with Ginger, Paeonia, and Bupleurum regulates Qi and Blood and harmonizes Yin and Wei. One of the distinguishing features of Wind is to change and move quickly. It is best to expel and clear superficial Wind as early as possible, before it can move into the channels or penetrate deeper into the organs. If one uses this formula very early, good results can usually be expected on the first or second day. If after using this formula for three days the symptoms still remain, other conditions and treatment possibilities need to be considered. According to modern pharmacological research in China, this formula can strengthen the immune function.
Standard use: Standard use is 1 pack, three times a day. At the onset of a Wind Cold attack, it is better to take 2 packs for the first dose. For children under 12, reduce the dosage according to age from 1/2 to 1/6 pack.