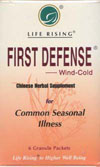 Name: First Defense (cold-style)

Net Wt: 10g x 6 Granule Packets/Box, 100 Boxes/Case
Description: According to traditional Chinese medicine (TCM), seasonal change can cause the external pathogen Wind combined with Cold or Heat. Proven through hundreds of years of development and use, First Defense (cold-style) is highly effective at helping to clear external Wind-Cold, particularly when taken at earliest onset. According to TCM, external Wind-Cold is characterized by a clear running-nose, chills, pale complexion, and a tight pulse.
*These statements have not been evaluated by the Food and Drug Administration. These products are not intended to diagnose, treat, cure or prevent any disease.